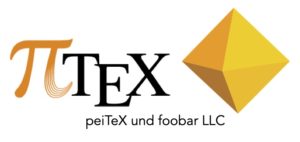 Press release
Zurich – Hamburg, 29th June 2020
Just in time for the introduction of the "QR bill" in Switzerland, Marei Peischl (peiTeX TeXnical Solutions, Hamburg) and Alex Antener (foobar LLC, Zurich) publish the LaTeX based QRbill template under the LaTeX Project Public License (LPPL).
Thanks to the stringent, simple, clear and well-arranged structure, the template created and published following the specifications of SIX Interbank Clearing Ltd can easily be implemented in a variety of accounting and billing applications and thus used again. The published template is based on the guidelines issued for Switzerland and intentionally has a modular structure to enable further development and adaptation for use across national borders.
The official package can be downloaded from the archive of the CTAN – Comprehensive TeX Archive Network at the following URL: https://ctan.org/pkg/qrbill
The contact to take care of the official template can be written to via the email address qrbill@peitex.de while the issue tracker is here.
The two companies peiTeX and foobar LLC are both technology companies that support their decades of historically grown experience in specialised areas with a strong open source and free software background.
Marei Peischl & Alex Antener
peiTeX & foobar LLC