EUGEN5 LSZH (cops at Zurich airport)
On Planefinder one can see police and fire brigade objects like EUGEN11, EUGEN5, URSULA4 and GALA18 taxying along the run- and taxiways in LSZH at night.
This is quite handy, as any attacker with a Smartphone can see, where the cops are located, which would ease access to the airport facility and the aircrafts … 😎
*sigh* – What a misconception!
… they can even be tracked with the live and fully movable webcams of the airport. – And they actually should be audible on frequency as well!?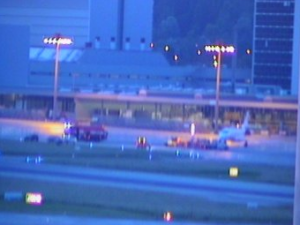 [Update]
Ambu = Ambulance
Apron = Apron Control
Argus = Sight seeings
Diana = Gamekeeper
Eugen = Electro
Fabian = Workshop
Florian = Fire Brigade
Flupo = Airport Authority
Gala = Maintainance
Guido = Skyguide
Gusti = Airport Authority
Kondor = Snow Truck
Meteo = Weather
Orion = Ramp Safety
Parking = Parking
Riva = Airport Police
Simon = Safety Office
Turm = Approach / Runways
Ursula = Construction supervisor
Viktor = Cleaning
Zebra = Apron Service (Marshaller)