For the upcoming event
DON LI'S ORBITAL GARDEN INVITES:

A 48 HOUR RHYTHM AROUND THE CLOCK

FOR FABAIN KURATLI
Don asked me to program a precise metronome that ticks synchronously to the world clock and conducts the 48 drummer's who will play at the 48 hours life performance from 26th to 28th of november 2010 at the Tonus Labor at Kramgasse 10 in Berne.
Therefore I chose puredata to build the patch to be able to address sound and video-files without delay and reliably. Further Pd comes with features such as [netsend] to stream framerates to a second computer where [netreceive] reads them and e.g. recalculates them to play a film using [gemwin].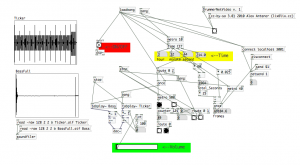 This patch will be released as soon as I'm happy with it's result. Meanwhile check the screenshot to get an idea what it's doing.