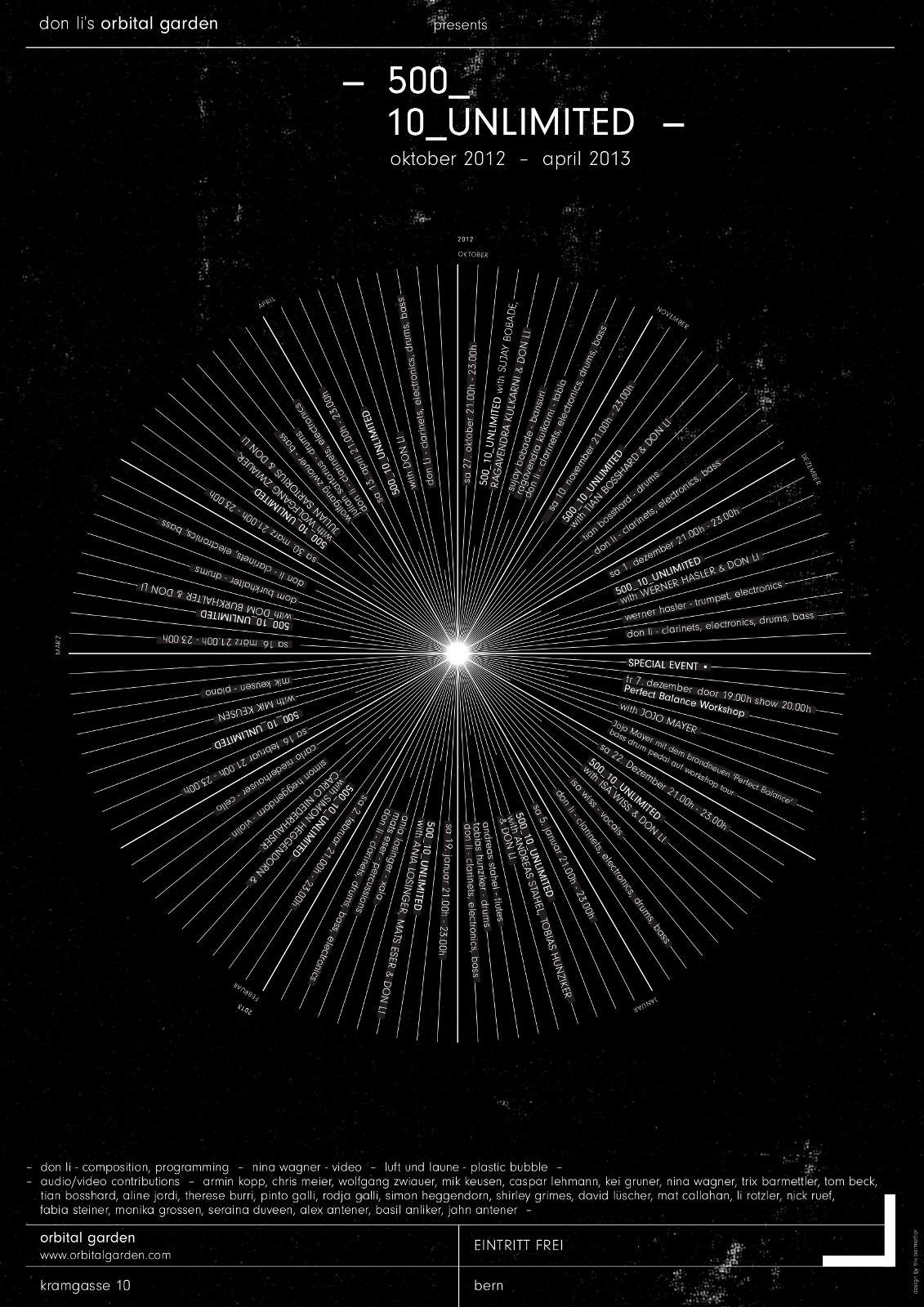 Don Li's Orbital Garden presents
500_10_UNLIMITED works with 26 video and audio recordings of several people, who give their opinion about the new free entrance concept. Along with the melody of their speech Don Li has developed a composition that is flexible so that it serves as a base for the coming 11 concerts. The piece evolves constantly according to the current instrumentation and cast. The 2 hour concerts will be performed by chosen guests.
All the concerts are ENTRANCE FREE and enable an uncomplicated coming and going.
SPEAKER Armin Kopp, Chris Meier, Wolfgang Zwiauer, Mik Keusen, Aline Jordi, Trix Barmettler, Kei Gruner, Nina Wagner, Therese Burri, Tom Beck, Tian Bosshard, Caspar Lehmann, Pinto Galli, Shirley Grimes, Rodja Galli, Simon Heggendorn, David Lüscher, Seraina Duveen, Mat Callahan, Monika Grossen, Nick Ruef, Fabia Steiner, Li Rotzler, Basil Anliker, Jahn Antener
MUSICIANS Sujay Bobade – Bansuri Ragavendra Kulkarni – Tabla Tian Bosshard – Drums Werner Hasler – Trumpet, Electronics Isa Wiss – Vocals Andreas Stahel – Flutes Tobias Hunziker – Drums Ania Losinger – Xala Mats Eser – Percussions Simon Heggendorn – Violin Carlo Niederhauser – Cello Mik Keusen – Piano Julian Sartorius – Drums Wolfgang Zwiauer – Bass Don Li – Clarinets, Electronics, Drums, Bass
Source: Orbitalgarden